Safe Sharps Disposal
If you have come across an improperly disposed of syringe in Monroe County, you may call (812) 349-2543, leave a message with your name, phone number, and specific location of syringe, and staff will respond during normal business hours.
If you need to dispose of a needle or sharp:
DO NOT force needles or sharps into a container, put fingers inside the container, bend, break, recap or remove the needle, or walk while holding the needle.
INSTEAD make sure that you can clearly see and move around the needle, ensure no children or others are nearby, use gloves, and bring your sharps container or alternative to the needle, not the other way around.
TAKE ACTION by putting on gloves, placing the container on the ground beside the syringe, picking the syringe up by the middle of the barrel by using tongs or gloved hands (whichever provides the most control), placing the syringe into the sharps container sharp end first, securing the lid of the sharps container, removing gloves, and washing your hands.
If you do not have access to a SHARPS container, use a sturdy, puncture-resistant container with a tight fitting, puncture-resistant lid (such as a laundry detergent bottle) to dispose of the syringe. After placing the syringe into the container, tape the lid and write 'Sharps - Do Not Recycle' clearly and legibly on the outside of the container before placing it in the trash. You may also drop off sharps at a community drop-off location.
Monroe County Syringe Service Program provides education and materials for picking up and disposing of sharps found in the community. Below are a printable brochure and flyer filled with information about how to safely handle sharps to use as a reference. We hope that with these Monroe County specific tools, you can feel more empowered to dispose of sharps found in the community.
If you would like to report trends in syringe litter in your neighborhood or places that you frequent, please help us target our programming efforts by filling out this form: https://forms.gle/Ht8FJPDJRHexbMbc8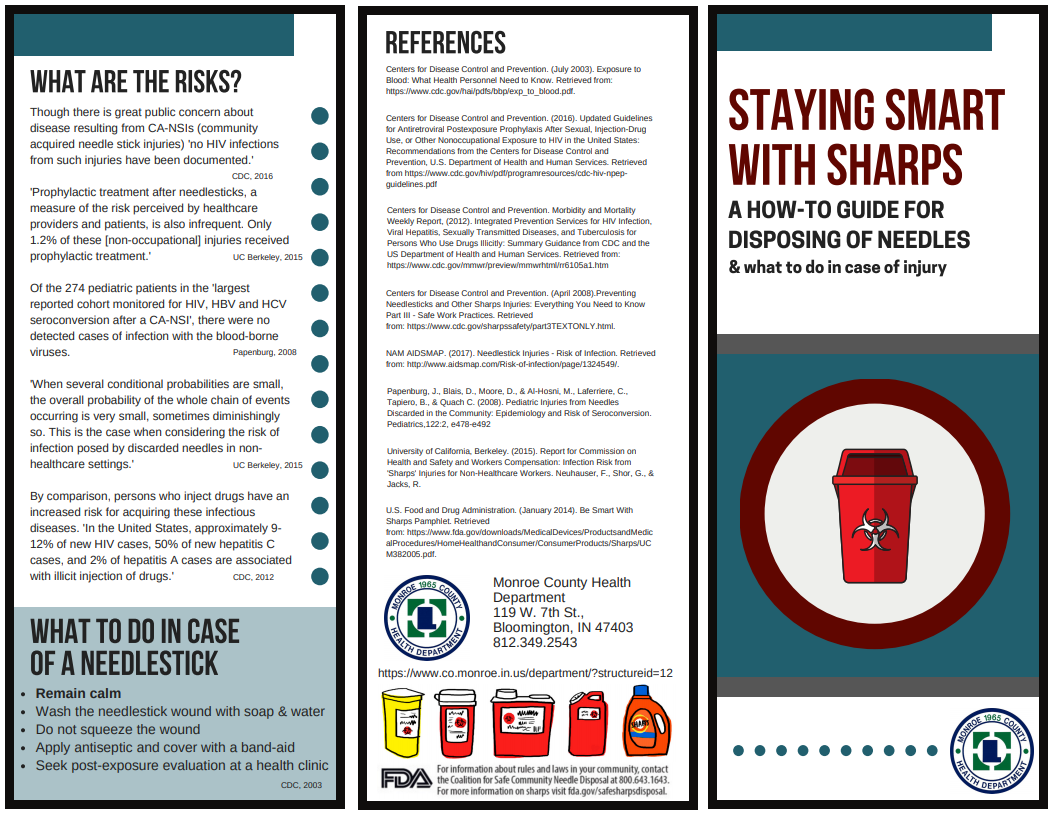 DISPOSAL OPTIONS
The map below highlights community partners and other agencies who have sharps containers available on-site.
Click on the arrow icon to the left of 'Monroe County Sharps Disposal' to view the map legend. This includes information about where the disposal units are located, what they look like, what hours the units are accessible and other relevant information. This is not an exhaustive list, and will be updated. If your agency would like to be listed on this map, please email mvehslage@co.monroe.in.us.
City of Bloomington Parks and Recreation Partnership
For the 2020 calendar year Monroe County Health Department and Bloomington Parks Department are piloting a syringe disposal program with containers available in three city parks: Seminary Park, Rev. E. Butler Park, and Building Trades Park. For the news release regarding the partnership, click here.
MEDICATION DISPOSAL
Community members often ask about medication disposal. Below are some resources in Monroe County:
CVS Pharmacy
2701 E. 3rd St., Bloomington, IN
(812) 332-1419
A medication disposal kiosk is located in the back near the pharmacy. It is preferred for medication to be in the original container, though it can be accepted in other non-breakable containers. Medication must be double-bagged and sealed if in a Zip-loc bag. Liquids are limited to a 4 oz. maximum.
Monroe County Sheriff
301 N. College Ave., Bloomington, IN
(812) 349-2534
Expired or unused prescription medication can be taken for disposal from 8am-6pm Monday - Friday at the front window in the main office. It is preferred for the medication to be in an original container so that the staff are aware of what they are handling, but they may accept other forms.
Monroe County Solid Waste District
3400 S. Walnut St., Bloomington, IN
(812) 349-2020
Expired or unused over-the-counter medications can be taken for disposal during business hours of 7:30am-5:30pm Tuesday - Saturday.
IU Health Bloomington no longer collects medication for disposal.
---
Through this website you are able to link to other websites which are not under the control of the Monroe County Health Department. We have no control over the nature, content and availability of those sites. The inclusion of any links does not necessarily imply a recommendation or endorse the views expressed within them, they are for informational purposes only.